The Daytona Beach CC
Paul B Tomaino
386-239-9485
pibit@cfl.rr.com

---
Ron Henley, By Burt Hochburg ca '79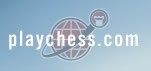 The Daytona Beach Chess Club no longer officially meets as a group.
There is a group that meets at 6:30 pm every Saturday evening at the Barnes & Noble Book store on ISP across from the race track.
---
LM Mark Ryan is ranked 15th in the USCF over 65 group!!
(Click on "Top over 65.jpg tab on left)
---
Chess Master Mark Ryan has a large selection (300) of Chess Books for sale.
Email him with the books you are looking for and he will email you back if he has those books and the price he is asking. All payments are by Paypal .
He has some books listed on Ebay and his handle is Ryan49 . Check him out.